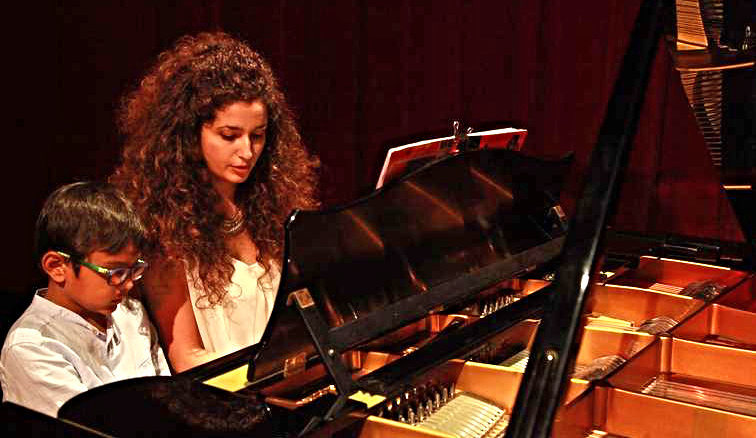 About
Zein Zabaneh is a professional pianist and teacher with experience in North America and the Middle East. She completed her Bachelor of Music degree in piano performance from the University of Toronto, and Master of Arts from the University of Warwick. With 16 years of teaching experience and more than 18 years of performance experience as a soloist and in ensembles, she received training from some of the world's top award winning classical musicians and mentors, and performed in numerous events and competitions. Zein taught in music schools and privately, and has been running her private piano studio since 2012. She continuously develops her pedagogical methods and approaches by attending international piano pedagogy conferences and workshops on a regular basis.
Online Classes
Zein provides virtual private one-on-one music tuition to children and adults of all levels and abilities and prepares students for piano exams. Online lessons are held on Zoom platform and their duration ranges from 30 minute, 45 minutes or 1 hour. A laptop or tablet and good internet connection are needed for a successful lesson. Please check the Teaching Philosophy and Policies sections for further information.
For lesson rates, please get in touch through this website.
Piano Exams
Most of Zein's students follow the Trinity College curriculum and have achieved top scores. The majority of her students pass the exams with Distinction or Merit (in 2019-2020 results 90% of her students achieved Distinction). Zein prepares students for both Trinity College and ABRSM exams.
What people are saying..
"Zein is a fantastic teacher who literally saved the day for both my girls who had a not so great experience with a previous teacher. I was extremely worried that my eldest would lose interest in piano, but zein quickly understood how to handle her and with zein she aced her grade 3 Trinity College exam with a top score. Zein is patient, extremely organized, provides detailed and thorough feedback post every session and sets very clear expectations for the following session. Her piano studio is welcoming and quiet and equipped with a top notch standing piano. Zein understand the Trinity College curriculum and worked very hard with my daughter to set her up for success. She's very technology savvy and continued to tutor my daughter seamlessly during Quarantine time and prepared her well for grade 3 exam. I can't recommend zein more to anyone, I wish we met her earlier!" Yasmine Hesham, Dubai
"Zein is an excellent tutor. She is a very talented pianist with tremendous musical knowledge. She helped my son who is studying Music at University with both piano and Music theory. Zein is very patient, explains things really well, and inspires her students. We are so happy we found Zein and are delighted to recommend her. My son will definitely want to work with Zein again in the future during holiday breaks from University. Zein definitely helped my son with his degree skills and he will return to University as a stronger and more advanced student." Geoff Dickinson, Dubai, UAE
"I've been a student of Zein's for the past 2+ Years now at 3 times per week, and it's been a great experience! Starting from scratch as an adult learner is always tough but her learning style, technique and respect towards each persons learning potential makes the lessons enjoyable and highly productive. She is easy going and open to questions and doesn't make you feel self conscious about any difficulties you might have. I would say i'm very happy with the progress iv'e made with Zein so far and i can tell from my playing in front of other people! I would highly recommend anyone looking to get into the piano, with our without prior knowledge about the instrument to have a chat with her!" Ismat, Dubai, UAE
"Zein is a wonderful and talented instructor. She is very patient and caring when working with her students. She is a knowledgeable and energetic teacher who imparts good techniques and at the same time instills a lifelong appreciation of music. Zein specializes in piano and tailors lessons to fit the students needs. My 11 year daughter had almost lost interest but when Zein started teaching her she managed to restore her interest and confidence in playing the piano. She is amazing with children and creates an environment that is friendly and inspiring for them" Diala Ramahi, Dubai, UAE
"Zein is a very dedicated teacher. She is professional and passionate about music, which show clearly during her sessions. My 7 year old daughter loves when Zein shares information about music and piano as an instrument. Her teaching style is simple and clear, especially for kids. We started the lessons more than a year ago, when my daughter was almost 6, which is relatively a young age for piano. It was challenging at first, however the progress, commitment and the passion my daughter has for piano today is simply because of Zein." Serine, Dubai, UAE
"Zein is a very composed and serious teacher that has a very special way with kids. What I love most about Zein is that she doesn't only focus on teaching piano as a musical instrument but also focuses a lot on proper posture and finger movement! She is a well-rounded tutor!" Razan Seikaly, Dubai, UAE
"Ms Zein is a very dear person to our hearts. There are two years already since she is working with my two children (13 years old daughter and 10 years old son) helping them improve their piano knowledge. In all this time, she showed dedication to her work, patience and care, and a special warmth that allowed her to build a relationship of trust with the kids. If you are searching for a devoted and competent teacher for your child, then I am strongly recommending Ms. Zein." Andreea Badulescu, Dubai,UAE
"Zein is an extremely professional and friendly tutor. My son had never played the piano before and from his first lesson with Zein he felt encouraged, enthusiastic and thoroughly enjoyed it. We are very thankful to Zein for making his piano experience fun, engaging and challenging when it needs to be. Our son has progressed extremely well and continues to enjoy his piano playing." Kate Hendrick, Dubai, UAE
"Zein is a wonderfully encouraging piano teacher for my nine-year-old daughter who has recently taken her Trinity Grade 1 exam. She is patient, considerate and nurturing and my daughter has certainly gained in confidence since switching from a different piano teacher." Helen, Dubai, UAE
"Zein is an excellent teacher. She is patient and nice with children and always finds a way to connect with them even with the hardest kind of them. She taught my 3 children whom one of them is a special needs child and with Zein courses she bloomed and even performed in a concert which was organized by the incredible Zein. Thank you Zein for every thing." Alaa' - Amman, Jordan
"Zein is a wonderful piano teacher and has great patience for students with all age groups. She is strict with the curriculum and always encourage her students to reach their potential. All my three kids love her!" Ashley Yang - MD, USA